Julius Lukeš
15 November 2018
IOCB Prague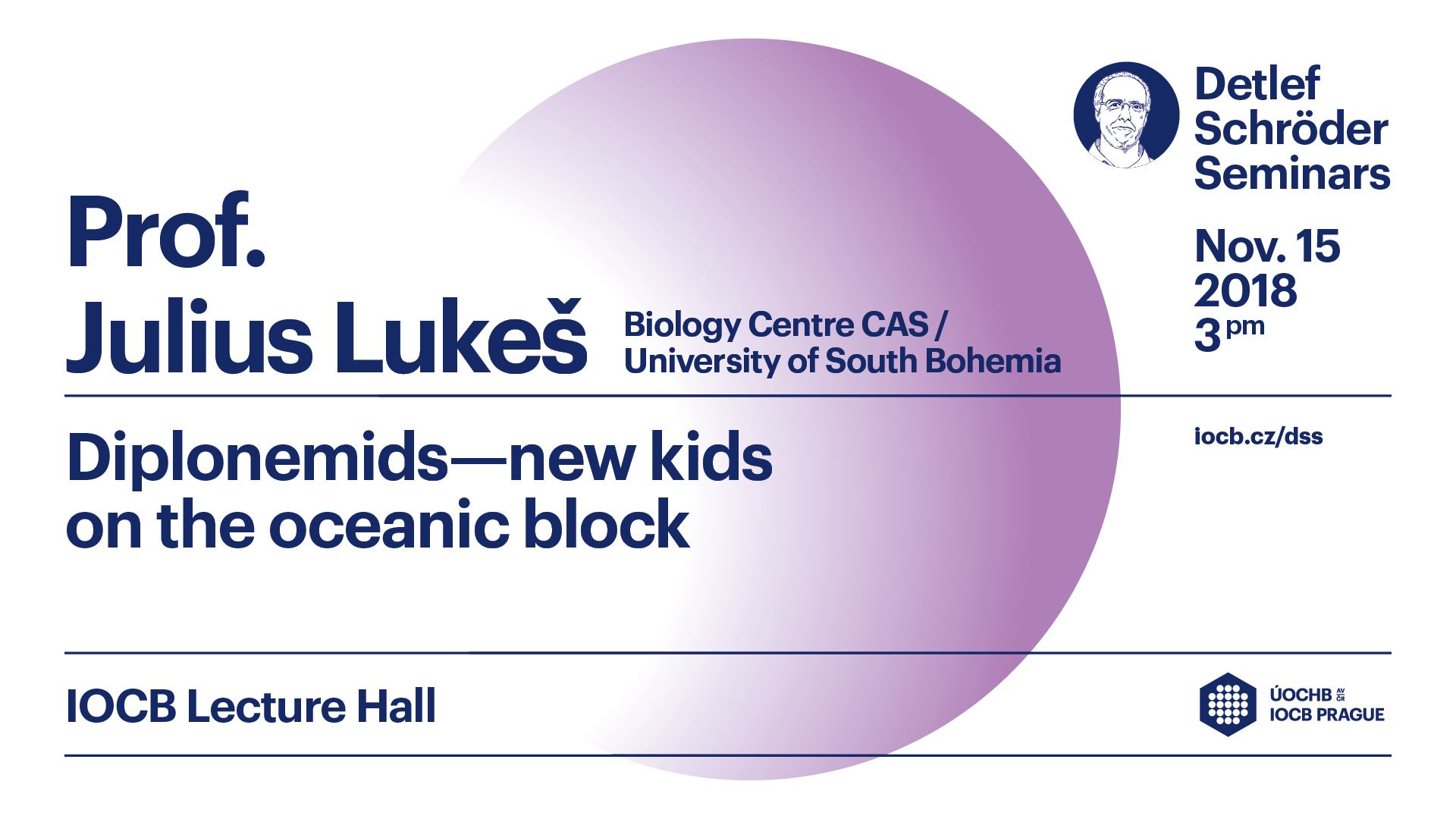 Speaker
Prof. Julius Lukeš
(Institute of Parasitology, Biology Centre of the CAS & University of South Bohemia, České Budějovice, Czech Republic)
Topic
Diplonemids – new kids on the oceanic block
Date and time
15 November 2018, 3 p.m.
Place
IOCB Prague, Lecture Hall (Building A, 2nd floor, A2.01)
Abstract
Diplonemids are unicellular eukaryotes related to pathogenic trypanosomes. Unexpectedly, they were recently shown to be the 3rd most diverse and 6th most abundant marine eukaryotes. This reflects how little do we know about oceanic microorganisms, which produce half of all oxygen and are critical for the well-being of this planet. I will introduce this group of protozoans, until recently considered rare and obscure, in a way digestible for chemists.
References
Flegontova O., Flegontov P., Malviya S., Audic S., Wincker P., de Vargas C., Bowler C., Lukeš J. & Horák A. (2016) Unexpected diversity and abundance of planktonic diplonemids in the world ocean. Curr. Biol. 26, 3060-3065.
Gawryluk R.M.R., del Campo J., Okamoto N., Strassert J.F.H., Lukeš J., Richards T.A., Worden A.Z., Santoro A.E. & Keeling P.J. (2016) Morphological identification and single-cell genomics of marine diplonemids. Curr. Biol. 26, 3053-3059.
de Vargas C. et al. (2015) Eukaryotic plankton diversity in the sunlit global ocean. Science 348, 1261605.
Lukeš J., Flegontova O. & Horák A. (2015) Diplonemids. Curr. Biol. 25, R702-R704.