Take the step towards a career in organic chemistry and biochemistry...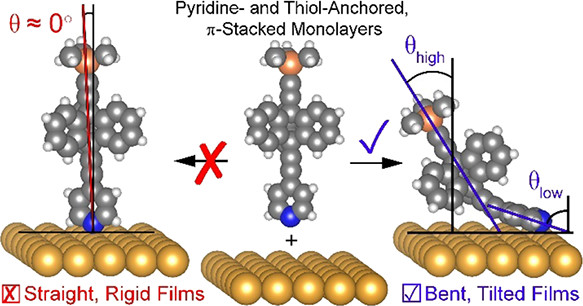 Molecular Bending: An Important Factor Affecting the Packing of Self-Assembled Monolayers of Triptycene-Based Molecular Rods on a (111) Gold Surface
Journal of Physical Chemistry C 126 (16): 7193–7207 (2022)
The present study has identified molecular bending as an important factor that has a profound effect on the self-assembly of originally rod-shaped organic molecules on a (111) gold surface. This was demonstrated on three specifically designed rigid molecular rods carrying archetypal anchoring groups (pyridyl units and thiols) on one terminus. These rods were used to prepare corresponding self-assembled monolayers (SAMs), and a combination of various analytical techniques revealed that originally straight molecular rods that were bent once adsorbed on a metallic surface, acquiring a characteristic "J-shape". Extensive density functional theory calculations, including in silico reconstruction of such SAMs on (111) gold, clearly confirmed experimental observations.
The mycobacterial guaB1 gene encodes a guanosine 5′-monophosphate reductase with a cystathionine-β-synthase domain
FEBS Journal 2022: Early View
Access to Fluoroalkylated Azoles and 2-Acylaminoketones via Fluorinated Anhydride-Mediated Cleavage of NH-1,2,3-Triazoles
Organic Letters 24 (10): 1958–1963 (2022)
Understanding desaturation/hydroxylation activity of castor stearoyl Δ9-Desaturase through rational mutagenesis
Computational and Structural Biotechnology Journal 20: 1378-1388 (2022)