Take the step towards a career in organic chemistry and biochemistry...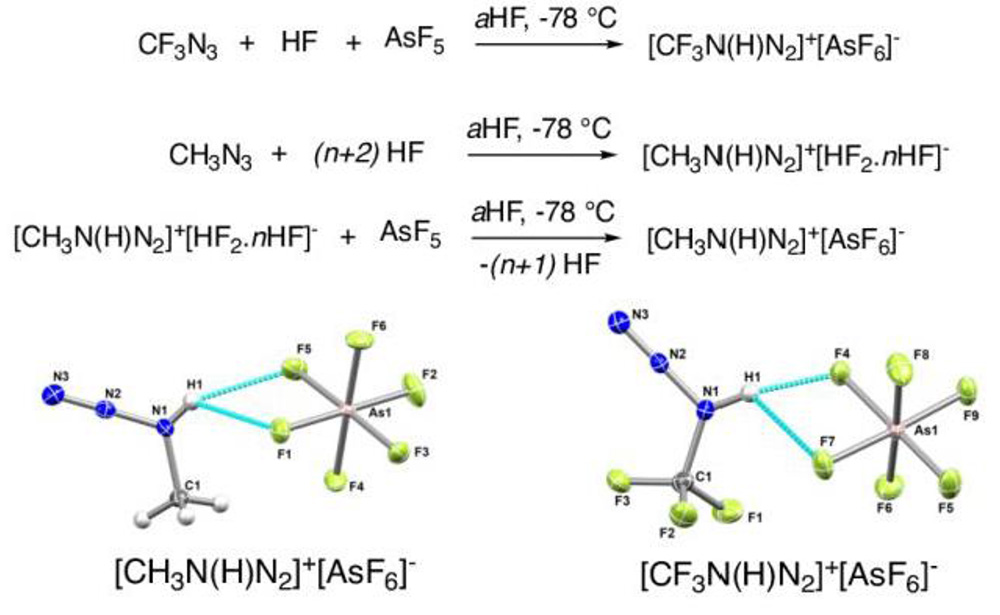 Protonation of CH3N3 and CF3N3 in Superacids: Isolation and Structural Characterization of Long‐Lived Methyl‐ and Trifluoromethylamino Diazonium Ions
Angewandte Chemie International Edition 2020 : Early View (2020).
The methylamino diazonium cations [CH3N(H)N2]+ and [CF3N(H)N2]+ were prepared as their low‐temperature stable [AsF6]‐ salts by protonation of azidomethane and azidotrifluoromethane in superacidic systems. They were characterized by NMR and Raman spectroscopy. Unequivocal proof of the protonation site was obtained by the crystal structures of both salts, confirming the formation of alkylamino diazonium ions. The Lewis acid‐base adducts CH3N3·AsF5 and CF3N3·AsF5 were also prepared and characterized by low‐temperature NMR and Raman spectroscopy, and, in case of CH3N3·AsF5, by X‐ray structure determination. Electronic structure calculations were performed to provide additional insights. Attempted electrophilic amination of aromatics such as benzene and toluene with methyl ‐and trifluoromethyl‐amino diazonium ions were unsuccessful.
Sulfonamido carboranes as highly selective inhibitors of cancer-specific carbonic anhydrase IX
European Journal of Medicinal Chemistry 2020 : Early View (2020).
A Systematic Study of Coumarin‐Tetrazine Light‐Up Probes for Bioorthogonal Fluorescence Imaging
Chemistry - A European Journal 2020 : Early View (2020).
Helquats as Promoters of the Povarov Reaction: Synthesis of 1,2,3,4‐Tetrahydroquinoline Scaffolds Catalyzed by Helicene‐Viologen Hybrids
ChemPlusChem 2020 : Early View (2020).