Detlef Schröder Seminar – Vítězslav Bryja
16 October 2019
IOCB Prague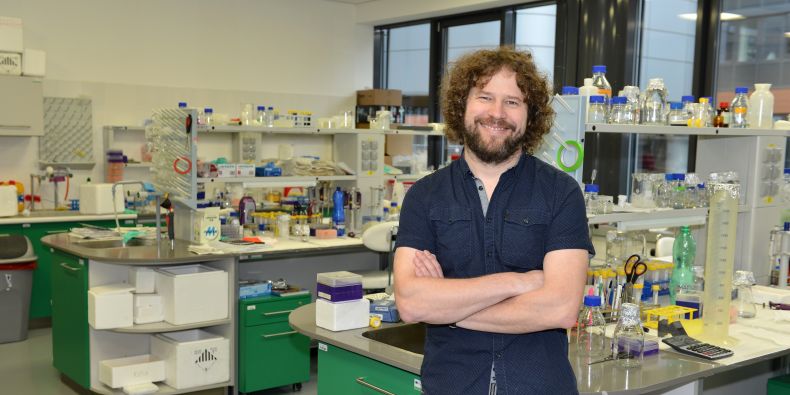 Speaker
Prof. Vítězslav Bryja
(Institute of Experimental Biology, Faculty of Science, Masaryk University, Brno, Czech Republic)
Topic
Cell migration as a therapeutic target: Blocking non-canonical Wnt pathway in leukemia and cancer
Date and time
16 October 2019, 3 p.m.
Place
IOCB Prague, Lecture Hall (Building A, 2nd floor, A2.01)
Abstract
Non-canonical Wnt/planar cell polarity (PCP) signaling is a universal molecular machinery that controls cell polarization. We have shown that PCP signaling controls migration and drives the pathogenesis of chronic lymphocytic leukemia (CLL). In my seminar, I will discuss how PCP can be therapeutically targeted and show evidence that it is a relevant therapeutic target. I will focus on several specific questions:
What is the potential of the inhibition of casein kinase 1 (CK1), a key component of noncanonical Wnt signaling pathways, in the treatment of CLL?
How can we identify novel druggable targets in the PCP pathway/cell migration using proteomics?
Development of novel CK1 inhibitors (in collaboration with K. Paruch, Dept. Chemistry, Fac. Sci. MUNI) and their validation in the preclinical models.
What other pathological conditions can benefit from PCP/CK1 inhibition?
References
M. Kaucká, K. Plevová, Š. Pavlová, J. Verner, J. Procházková, P. Janovská, P. Krejčí, J. Kotašková, P. Ovesná, B. Tichý, Y. Brychtová, M. Doubek, A. Kozubík, J. Mayer, Š. Pospíšilová and V. Bryja (2013): The planar cell polarity pathway drives pathogenesis of chronic lymphocytic leukemia by the regulation of B-lymphocyte migration. Cancer Res. 73(5):1491-1501.

Janovska P1, Poppova L1, Plevova K, Plesingerova H, Behal M, Kaucka M, Ovesna P, Hlozkova M, Borsky M, Stehlikova O, Brychtova Y, Doubek M, Machalova M, Baskar S, Kozubik A, Pospisilova S, Pavlova S, Bryja V. (2016): Autocrine signaling by Wnt-5a deregulates chemotaxis of leukemic cells and predicts clinical outcome in chronic lymphocytic leukemia. Clinical Cancer Research 22(2):459-69.

Janovska P, Verner J, Kohoutek J, Bryjova L, Gregorova M, Dzimkova M, Skabrahova H, Radaszkiewicz T, Ovesna P, Vondalova Blanarova O, Nemcova T, Hoferova Z, Vasickova K, Smyckova L, Egle A, Pavlova S, Poppova L, Plevova K, Pospisilova S, Bryja V. Casein kinase 1 is a therapeutic target in chronic lymphocytic leukemia; Blood. 2018 Mar 15;131(11):1206-1218. doi: 10.1182/blood-2017-05-786947. Epub 2018 Jan 9.

Harnoš J, Cañizal MCA, Holler C, Jurásek M, Dublad J, Gömöryová K, Hanáková K, Bernatík O, Trantírek L, Gybeľ T, Fiedler M, Ryneš J, Dave Z, Fernandez-Llamazares AI, Zdráhal Z, Tripsianes K, Vácha R, Schambony A, Hoffmann C, Bryja V. Dishevelled-3 protein conformation dynamics analyzed by FRET-based biosensors: a key role of casein kinase 1. Nature Communications 2019 Apr 18;10(1):1804. doi: 10.1038/s41467-019-09651-7.