Cell Harvester FilterMate-96 for MicroBeta2 Microplate Counter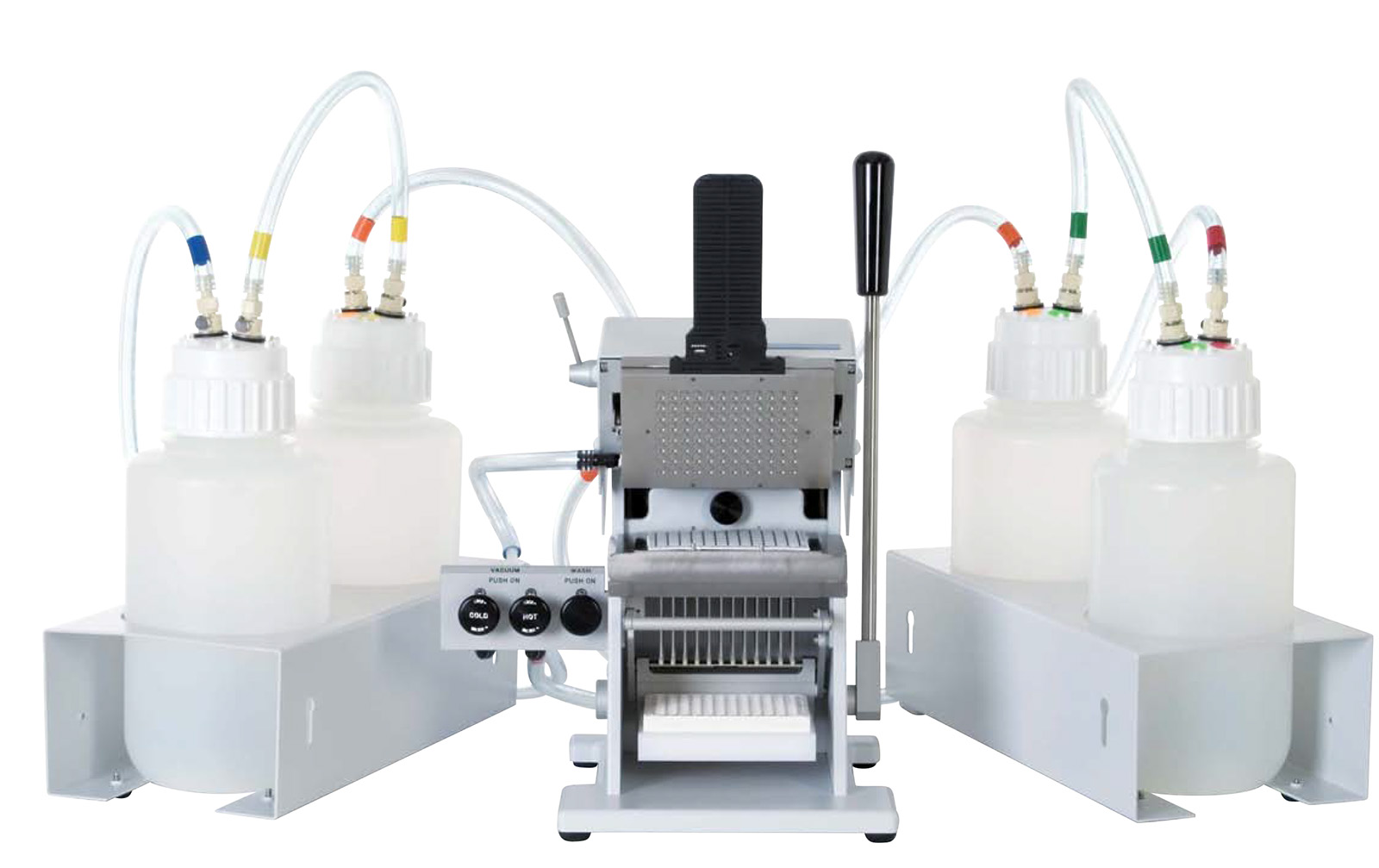 Harvesting cells is fast and easy with PerkinElmer's FilterMate™ Universal Harvester. This compact system harvests and washes all 96 samples simultaneously from shallow- or deep-well microplates. With this FilterMate model it takes only minutes to process and transfer samples onto dedicated filtermats for counting on our MicroBeta2 instrument.
With the FilterMate, you can leave filtermats intact and count them on our MicroBeta2 (A.3.76.), or cut them into individual filter disks and transfer them easily into individual gamma or liquid scintillation counting vials for counting on our 2470 WIZARD2 Automatic Gamma Counter (A.3.76.) or Tri-Carb 2900TR (A.3.76.).
Used for a cell proliferation (thymidine incorporation) assay using a cell harvesting method and filter counting on the MicroBeta2. The FilterMate harvester is very robust and simple to use. It supports all MicroBeta2 sample formats.
The cell proliferation assay with 3H-Thymidine incorporation is one of the most reliable and popular filter counting applications. There are several alternative non-radioactive methods for thymidine incorporation; however, they do not correlate directly with DNA synthesis and contain many additional assay steps compared to the 3H-Thymidine filtration assay.
Receptor-ligand binding assay with radioligands is another established reference method. The compound behavior of a tritiated ligand is the same as the unlabeled ligand; thus the method provides accurate and natural binding affinities. The GF/C type filter material can be used in receptor-ligand binding studies. For example, if the receptor concentration is 1 pmol per mg and the specific activity of the radioligand is 48 Ci/mmol, a spot with 100 μg collected protein at a saturated binding level would contain 10560 DPM.
Other applications: Cytotoxicity assays, Nucleic acid degradation, Cell wash station for adherent cell assays, etc.
Excellent counting efficiency and low background
Only one scintillator addition step per 96 samples
Small scintillator consumption: 5 mL per one Filtermat A, 25 μL per 96-well
Easy to handle: it is a plate
Low risk of cross contamination due to separating well structure
Located at A.3.77.



Location