Tenofovir
Category: Acyclic nucleoside phosphonates
Registration & producers: Tenofovir disoproxil fumarate: Viread 2001, Truvada 2004, Atripla 2006, Complera/Eviplera 2011, Stribild 2012 (Gilead Sciences); Tenofovir alafenamide fumarate: Genvoya 2015, Odefsey 2016, Descovy 2016, Vemlidy 2016, Biktarvy 2018 (Gilead Sciences), Symtuza 2018 (Janssen Pharmaceutical)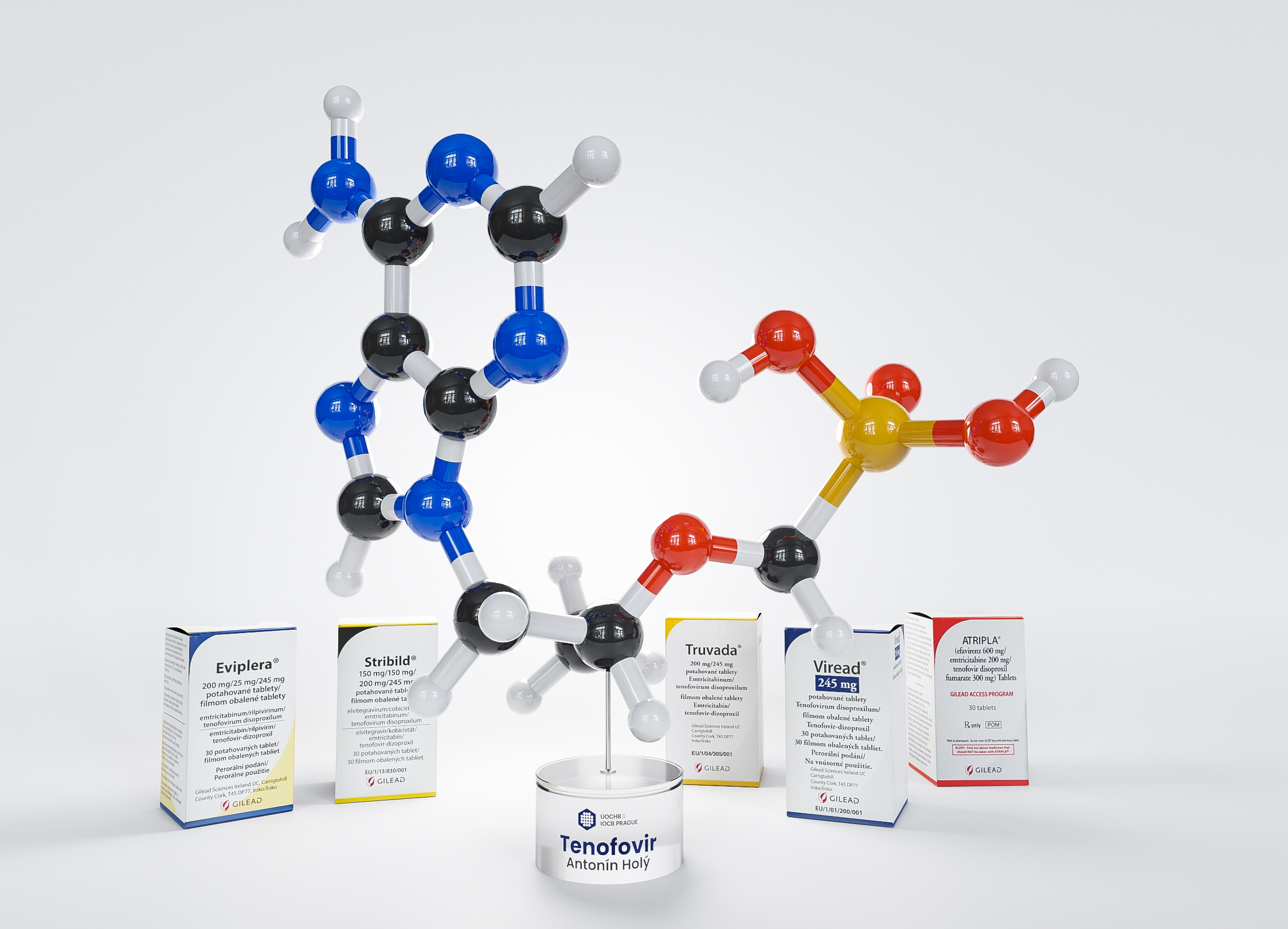 Tenofovir (PMPA) was initially synthesized by Antonín Holý. Interestingly, the original patent filed by Holý in 1984 makes no mention of its use for the treatment of the HIV infection, as the virus had only been discovered one year earlier. In 1985, Holý and Erik De Clercq discovered the anti-HIV activity of PMPA in a cell culture. In 1997, researchers from Gilead Sciences and the University of California, San Francisco, demonstrated the anti-HIV effect of tenofovir in human subjects.
Tenofovir disoproxil fumarate
Gilead Sciences developed a prodrug of tenofovir (also known as tenofovir disoproxil). This prodrug with enhanced oral absorption is converted by the human body to the active drug tenofovir.
Drugs:
Viread was the first antiretroviral drug based on tenofovir disoproxil fumarate and was approved in the USA in 2001 for the treatment of AIDS and for the treatment of chronic hepatitis B in 2008.
Truvada combines two different active ingredients, tenofovir, and emtricitabine, with a synergistic effect, thus reducing the drug dose. It was approved in 2006 for AIDS treatment and later on as prophylaxis in the at-risk population.
Atripla is the first once-daily pill for AIDS treatment. It combines efavirenz with tenofovir and emtricitabine. It decreases viral load and increases the number of CD4+ cells.
Complera (US)/Eviplera (EU) is another one-pill regimen of three compounds (tenofovir, emtricitabine, and rilpivirine) for patients who have not previously been treated for HIV.
Stribild, also known as the Quad pill, contains a combination of four drugs – elvitegravir, cobicistat, emtricitabine, and tenofovir – for the treatment of AIDS. These compounds directly suppress viral replication.
Tenofovir alafenamide fumarate
Tenofovir alafenamide fumarate/TAF is a novel prodrug of tenofovir. It was discovered and developed by Gilead Sciences. As a more efficient prodrug, TAF makes it possible to better address life-long therapy in the older and increasingly comorbid HIV-infected population. It has better distribution into target cells than tenofovir/TDF, is effective in a much lower dose, and has significantly reduced adverse side effects, namely kidney and bone toxicity.
Drugs:
Vemlidy is the trademark of TAF.
Genvoya combines elvitegravir, cobicistat, emtricitabine, and TAF (derived from Stribild).
Odefsey contains emtricitabine, rilpivirine, and TAF (derived from Complera).
Descovy is a combination of emtricitabine with TAF (derived from Truvada).
Biktarvy combines TAF with bictegravir and emtricitabine.
Symtuza contains TAF, darunavir, cobicistat, and emtricitabine.
In 2013, IOCB and KU Leuven reached an agreement with Gilead Sciences on license fees from the sales of drugs based on TAF for ten years after their introduction to the market, i.e. until 2025.