PhD projects at IOCB Prague – Call for Applications 2023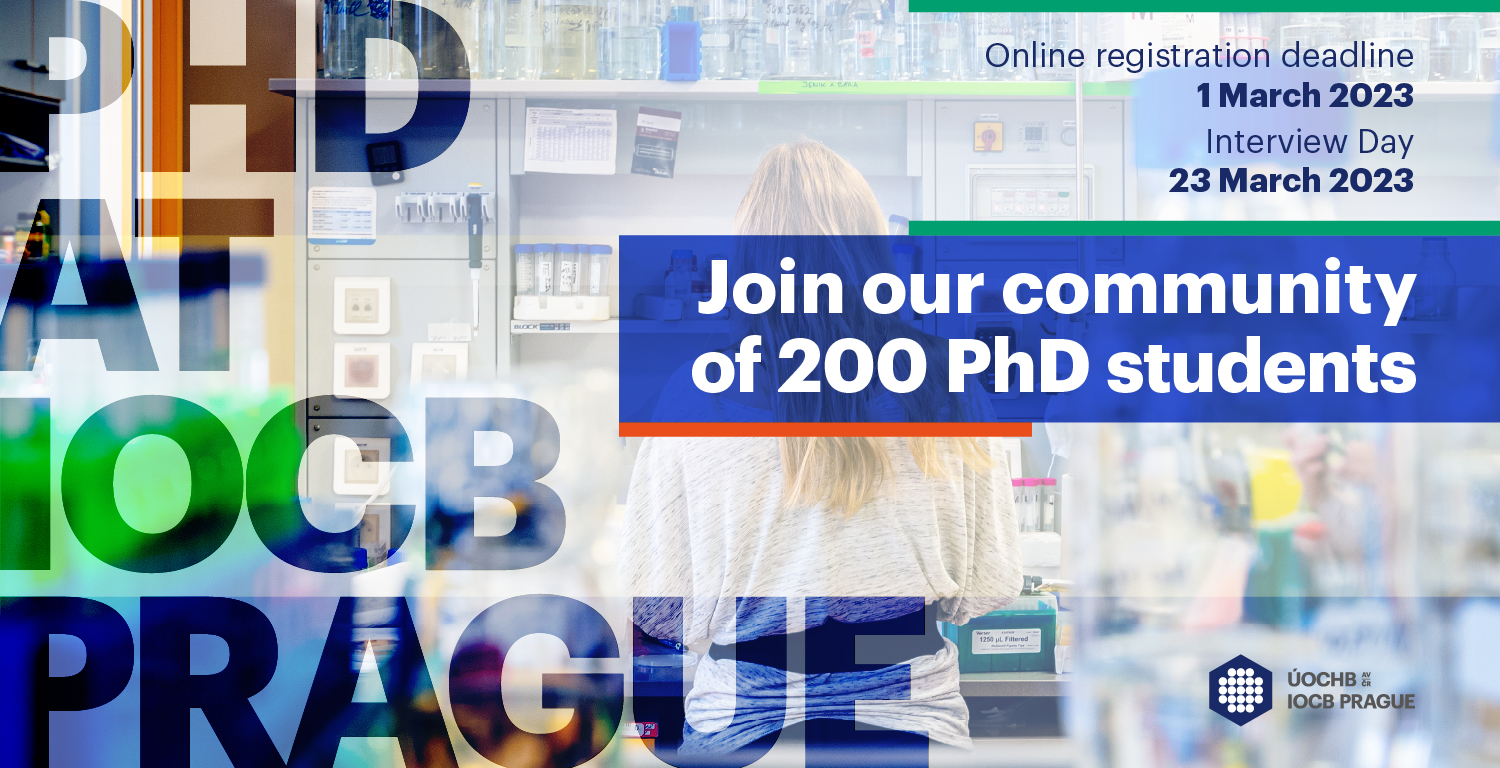 IOCB Prague is looking for talented, independent, and highly motivated PhD students with an MSc. degree or equivalent in life sciences or related fields.
As a student here, you'll have the opportunity to work on interesting projects in a first-class tutoring program. You will be in a vibrant international setting of a prestigious scientific institution, which has cutting-edge equipment and modern technologies and collaborates with leading research centers around the world as well as with important commercial partners.
Online registration deadline: 1 March 2023
Interview Day: 23 March 2023
How does the PhD at IOCB work?
Application process
CHEM – organic and medicinal chemistry
BIO – biochemistry, bioinformatics, molecular biology
PHYS – analytical, physical, and computational chemistry
You can select up to 3 projects. You can cross the clusters but it is not recommended – the clusters should help you to find faster your discipline of PhD study.
2. Before applying to our PhD recruitment process, you should have the following documents ready:
CV
Cover letter
BSc. and MSc. transcripts
3. APPLY here. [Applications are closed]
4. Shortlisted applicants will be invited for interviews taking place on 23 March 2023 at IOCB Prague (or online upon agreement with the PhD tutor).
5. Results will be sent to candidates within one week. Accepted candidates must apply for enrollment at the university listed by the tutor of the selected project.

6. Regardless of whether or not you have been selected, the final result will be sent to you by 3 April 2023.
Partner universities
PhD students must be enrolled in a partner university and will be employed by IOCB at the same time (part-time or full time) with a competitive salary (a scholarship from the university + a salary from IOCB).
Each university has its own process, conditions, and deadlines for PhD applications that differ from the IOCB recruitment process. IOCB has historically cooperated with Charles University and the University of Chemistry and Technology, Prague. Other universities are not excluded – you can discuss details with the tutor.
Deadlines and dates in 2023
Application submission: 1 March
Shortlisting/sending invitations to selected candidates: 8 March
Interview Day: 23 March
Final decisions: 3 April

Deadlines for PhD applications to universities
UCT Prague: 15 April
Charles University (Prague): 30 April
Want more information?